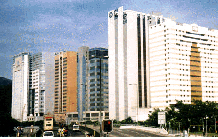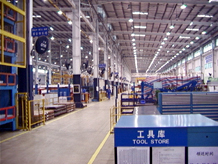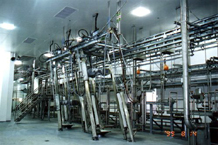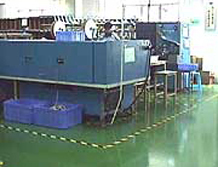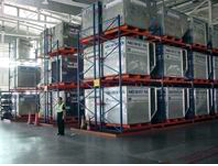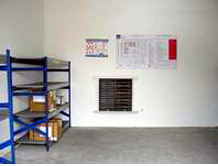 Factories and warehouses (industrial estates) are booming within the Greater China region.

In Hong Kong's there is an extensive network of warehouse and freight forwarding companies focused on getting products from Hong Kong and China out to the rest of the world.

Within China to date there are 270 industrial parks, located within 53 Economic and Technological Development Zones (ETDZs). Most of them are located in or near provincial capitals, economic centers or transport hubs.
The total land use for factories within these ETDZs is around 400 square kilometers.

Major industrial estates / parks exist in the following places:-

Guangdong Province - in numerous cities with the largest being in Guangzhou (Nansha / Panyu), Dongguan, Zhongshan, Zhuhai, Zhanjiang, Huizhou, Foshan and Shenzhen cities.
Zhejiang & Jiangsu Provinces (Shanghai City) - in numerous cities surrounding Shanghai including Pudong, Minhang, Caohejing, Ningbo, Hangzhou, Suzhou, Shantou, Kunshan, Wenzhou, Wuxi, Xiaoshan, Lianyungang and Nantong.
Fujian Province - Fuzhou, Fuqing, Dongshan and Xiamen cities.
Shandong Province - Qingdao, Yantai and Weihai cities
Beijing, Tainjin & Anhui Province - Tianjin, Wuhu, and Beijing cities.
Liaoning Province - in Dalian City (15 km2 industrial area / 1150 factories), Yingkou and Shenyang cities.
Other Provinces - Hainan Province (Yangpu city), Heilongjiang (Harbin city), Hubei Province (Wuhan city), Hunan Province (Changsha city), Jilin Province (Changchun city), Sichuan Province (Chongqing city) and Xinjiang Province (Wulumuqi city).

Hop Shing Engineering & Construction Limited was involved in many areas of the construction and has also been involved in the maintenance and improvement projects since their completion.
Some of the works we have been involved in include the following:-

a) During Construction

Floor Hardeners - protective and leveling of floor surfaces
Floor & Wall Coatings - decorative and protective coating of floors, walls and ceilings.
Surface Treatment Coatings - protective coating of concrete surfaces.
Substructure Waterproofing - waterproofing of basements, access ways, drives etc.
Internal / External Waterproofing - waterproofing of buildings
Roof Waterproofing - application of roof waterproofing layer prior to concrete screed or tiles
Water tanks - waterproofing and environmental sealing and coating
Joint Sealing - internal and external sealing of joints.
Lightweight concrete - application of lightweight concrete.
Anti-slip road coatings - application of anti-slip coatings on roof decks and private roads.

b) Maintenance and Improvement Projects since Construction

Floor & wall coatings - internal and external.
Waterproofing - leak repairs, replacement of waterproofing systems.
Concrete repair - both for structural or decorative reasons.
Sealing works - repair and replacement of seals.
Protective & decorative coating of structures
Anti-slip road coatings - application of anti-slip coatings on private roads

Please feel free to ask us more about the factory and warehouse works we have been involved in and how we can assist you within this sector.